Tom Daykin , Milwaukee Journal Sentinel
Developers who recently completed an apartment community in Walker's Point are planning another nearby project in that booming neighborhood.
The new building will be at 1001 S. 2nd St., a 12,300-square-foot lot at the southwest corner of S. 2nd and W. Mineral streets, said Tim Gokhman, of New Land Enterprises LLP.
He declined to provide additional information until the plans are ready to be released.
The lot was created by the recent demolition of the one-story former Rasmussen Industrial Supply building. The property was sold in January 2016 to Horner Sod Farms LLP for $270,000, according to state real estate records.
Horner's registered agent is Michael Sanfelippo, president of American United Taxicab Co., which is based nearby at 646 S. 2nd St.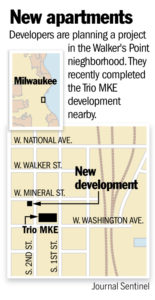 Gokhman, Sanfelippo and apartment building operator James Wiechmann last year completed Trio Mke, a development at 1020 S. 2nd St.
Trio has three five-story buildings totaling 120 apartments on a 1-acre site that was formerly an American United parking lot.
Other nearby projects include the newly opened Shoe Factory Lofts, the renovation of a former industrial building into 55 apartments at 224 W. Washington St.
Read more Here: